I'm ditching my others for this beast.
Only Strymon (using SHARC DSP Chips) could come through like this.
https://www.strymon.net/product/zelzah/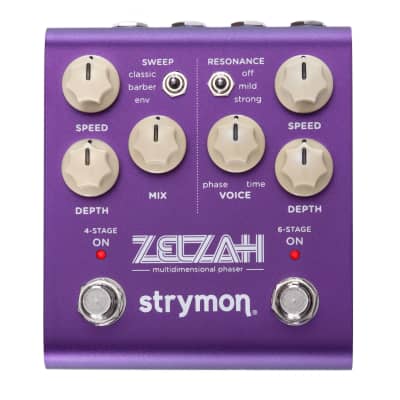 We need module versions of their stuff.
Posts: 2129
Joined: Tue Sep 14, 2010 5:29 am
Location: nowhere land
They have had good success with Magneto which appears to be a module of sorts.
But even so their pedals have fantastic MIDI Implementation.
Just look at these controls, all glitch free since they use All Pass algorithms rather than delay lines.
oh man that looks awesome!
I'm so close to getting this because of its excellent sound and total control.

But I've become very successful automating Omnispheres FX so I'm on the fence.

If I can run a 4 stage phaser alongside a 6 stage phaser and get close to the Strymon I'll probably bawk.

But the reason Strymon has such a great sound is because no delay lines are used.
It's totally based on All Pass technology.
Yeah well, Omnisphere worked but has that smeary/colored kind of sound, not well defined and clean like Strymon, so I bought it.
Will use XITE-1 XLR Outs and Mic Pre inputs (TRS Male from Strymon to dual XLR Mic Pre Y Cable) and report back.
Also going to use the Physis K4 controller USB port to Strymon USB C for MIDI. I have their TRS to MIDI Box/cable assembly but want to minimize clutter.
Fingers Crossed
With Synths below
https://youtu.be/ABUGpPAdpm4
I wonder if it will sound anything like the Mutron Biphase?
Not really sure if it's designed with similar specs.
I've combined a TC Helix with a Horizont and made it sound pretty darn good. The Helix has USB for loading presets but I haven't really used it - the settings are pretty simple to tweak. Now my EHX Flanger Hoax can get crazy with all the settings.
Guess I've got enough phaser pedals for now.......maybe haha.
Let us know how it works for you Jimmy.
I really wanted the Horizont, loved the sound.
But w/o MIDI control I get discouraged. So since my EPianos are Keyscape/Omnisphere I used automations for their FX which are surprisingly good, especially the Reverbs/Delays and Modulations.
But splurt was too cool not to have control over.

So by judging the various presets in the audio demo, I can tell the Univibe sound, all 4 stage and 6 stage sounds, vibratos tremolos, etc. can easily be made. MuTron looks like it can be used as there's a shapable envelope.

I just got called by SWater and it comes Friday so I'll get to work on it.
Praying the USB MIDI works, they say it does but no examples yet, just the same old buy this TRS/MIDI cable and out 150 dollar MIDI pedal. Been there done that, I want less clutter.

Cheerz/