This is C236 Asus Xeon E3-1275 w/ Windows 10 and the PCI Overflow when using a VST Host is not going to work.
I've seen the C232 ASRock working so I bought an ASRock C236 to see if that will work.
Scope 7 on my Z97m WS and H97n WS work fantastically.
If this ASRock board won't work I'm through with trying 1U builds.
I'll stick with 4U as I can try many different boards out.
My new 1 x 88 Note Controller with PC and Hardware Synth racks.
Nice compact rig. The RCFs go where the QWERTY/Mouse/Monitor are.
Everything is on wheels.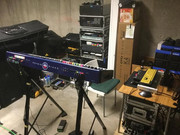 Too bad about the Asus. Notice the fans, the NVMe placement, perfect airflow.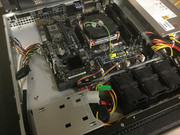 As you can see the old H97m WS and Z97m WS 1Us love new Scope 7 and Windows 8.1.
Asus has a bad habit of overclocking their motherboards, its the only reason I can think that the Host would cause overflow issues.