External Master Effect modules are awesome, and I recently bought 2k worth of
hardware FX for our PA and myself.
I found that having ADAT connections brought more precision to the signals so
have opted to use a pair of 350.00 USD TC Fireworx.
Excellent Modulation and Distortion FX along with beautiful Reverbs and a unique
Reverse Delay.
FWIW I now send my mix from RoyT's 8 x 8 via ADAT to a Behringer X32 rack that
sends signals to the QSC KW153;s and MW 181 Subs.
Scope XITE-1 sounds incredibly powerful as a live keyboard mixer.
I still use STW Plate X on Pianos/Rhodes/Wurlitzer/B3 stuff, Fraxx77's Master Reverb
as a Gated Reverb for all Horn Sections.
And of course dNa Prime Optimus has the sounds I require for Delay+Modulation.
It's delay tails trail off just like an old Lexicon PCM42 or Prime Time Model 93.
But if you get bored and want an FX unit with ADAT to keep down the -6 db
insertion loss
of analog gear, check one out on ebay.
Run this into an AUX CHannel or Bus, or just use it to do single tracks taking advantage
of the multitude of great FX it offers.
I use one on vocals that has a Doubler on slot one, followed by reverb or delay,
or filter, distortion or a combination of a few until the DSP chips show you are
out of juice.
Attachment: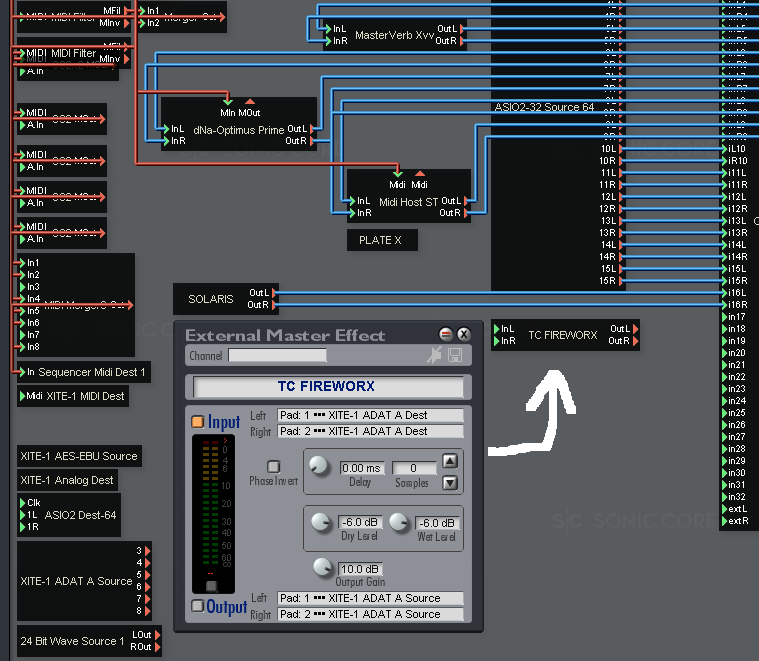 untitled.png [ 81.64 KiB | Viewed 1112 times ]