Here's an easy version I'll be using tonight.
I marked the names of the Modules used so disregard what I label them as.
Here's the purpose of the Modular Patch.
To give Parser Filter extra Modulation sources other than the 2 x stock LFOs.
Flexor III Pattern LFO generates LFOs not found elsewhere. So it can do real slow Sine Sweeps or it's own Patterns 0-128.
FreeMod E is what I labelled as EG Draw.
It's purpose is to be attached to a Zone on a controller, or a Pad/Button sending out note on/off messages.
I can trigger my own strikes/Zapps or rhythms by playing notes while holding a Pad on Solaris.
Ideally Cut knob on Parser Filter 1 gets the CC# assignment from Modular Patch, which is sent by the fader on Val module by at0m. Filter 1 on Parser has it's LFO disabled.
Parser Filter 2 can use a slow sweeping Sine Wave for the super slow sweeping sound.
While Filter 2 is slow sweeping a String Pad I am holding down (3-4 notes) on Solaris.
I am tapping the Button on notes on a Zone triggering the FreeMod E.
This way I can zapp the shit out of a chord or add a rhythm during a part as the Pad still maintains that slow sweeping filter sound from holding Solaris keys down.
Solaris as the jpeg shows, sends or receives no MIDI.
Hope this helps folks understand the unorthodox need, but I can't get anything in Native like this so I gots to make my own.
Attachment: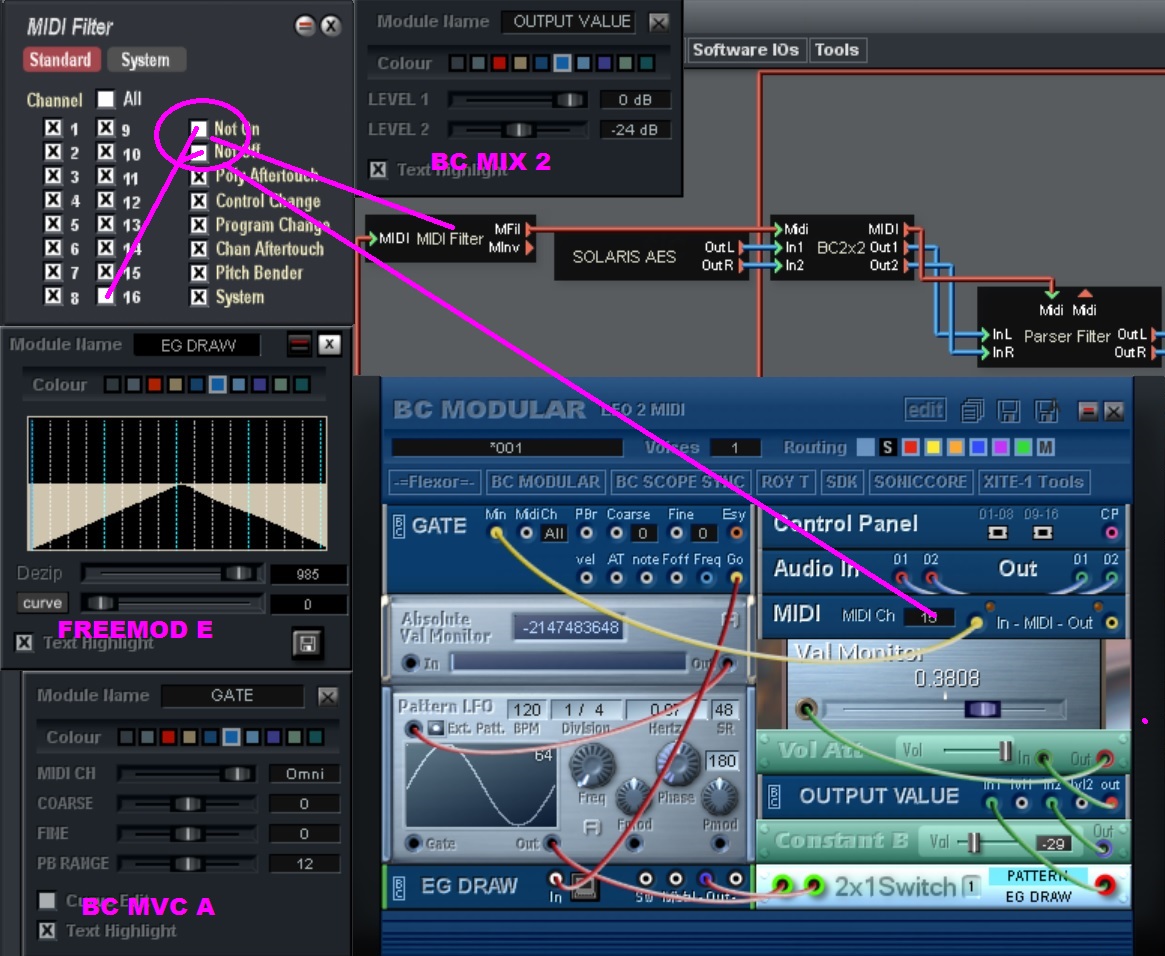 LFO EG ZAP.jpg [ 307.8 KiB | Viewed 1144 times ]