We want to maximise our profits this year.
So no more Midas M32/RCF Quad/DBA Dual Subs & Lights rentals.
3 x Vocals, each one has an automated TC Fireworx I programmed.
1 x Guitarist ( with the best double leads Ive ever heard) sings his ass off too.
1 x Bassist lead vocals
1 x drummer lead vocals
1 x keyboard rig.
The Dynamic Mixer has EQ per channel and EQ + mGate per drum channel
Using direct outs to RoyT small mixer > SideChained COMP > Monitor Mix
Also have three Monitor mixes for vocals.
Still cant get personalized mixes, but they can hear their own vocals.
If that is not satisfactory they can buy a 10,000 rig and get all finicky and shit.
Physis automates every parameter, every screenset pertains to whats automated.
Using my QSC KW Series 153 Array.
I have seperate outs for my Stage rig, and outs to FOH.
Speaker array has a hardware Tube Exciter that really adds some low end focus.
Just a pair of ADA 8200s with BLA Modifications.
And the kick ass Creamware A16 running Z-Link and 8200s using ADAT.
44.1k
Plenty of juice leftover.
Nobody can out perform the Scope DSP for real time.
It's as good as the Midas M32
Speakers are punchy cause I run them hot with the Tubes.
Life is Good
Attachment: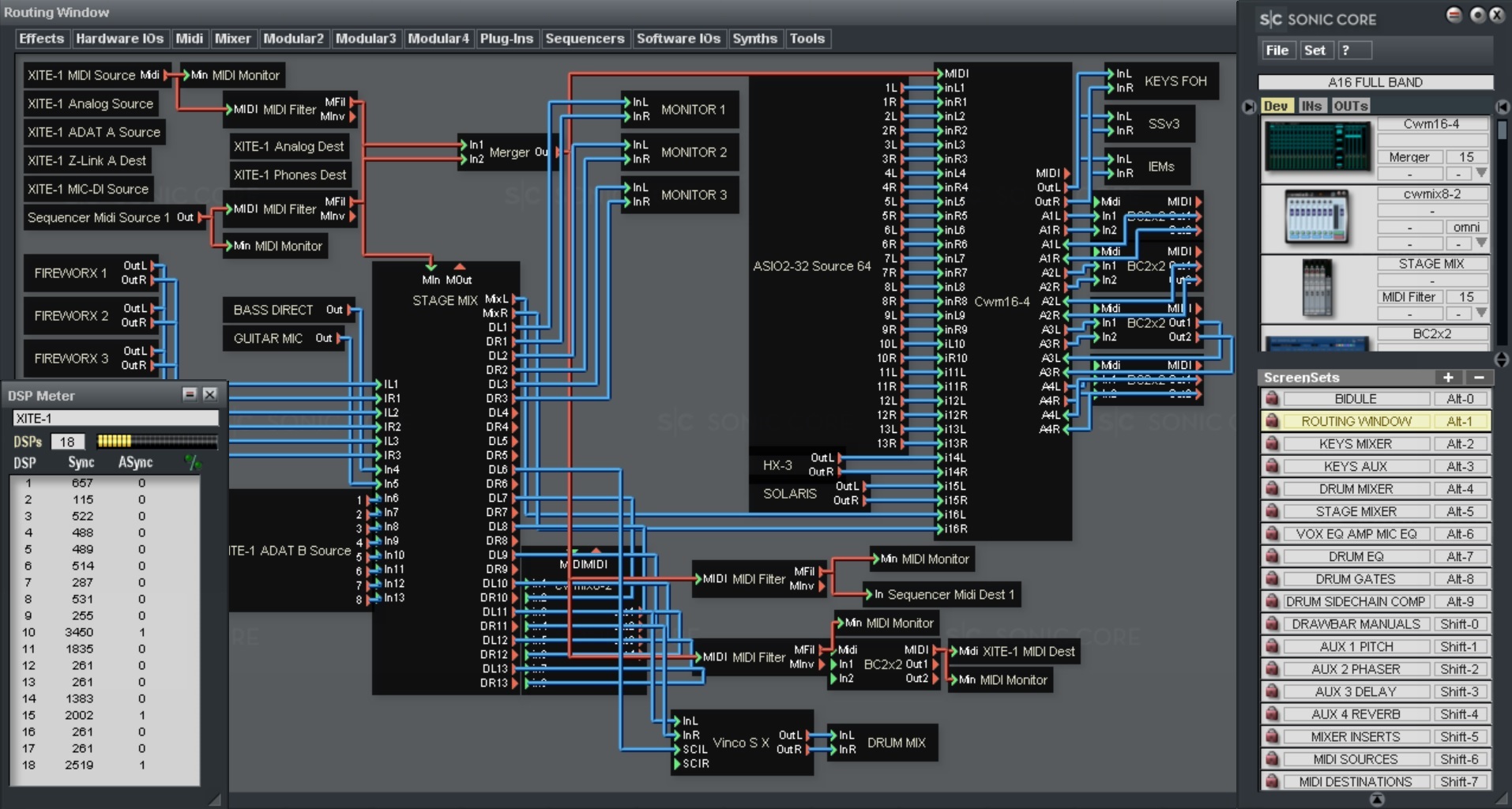 FULL BAND SUMMER 17.jpg [ 483.2 KiB | Viewed 1160 times ]