23-03-2016
Concertzender - Electronic Frequencies
The Game changers
A new series for Electronic Frequencies at the Concertzender by Roland Kuit
Fear and bravery
"An act of bravery to break out of tonality's coffin earlier in this century. The rule-inventing and rule-breaking of that era unblocked new musical thoughts. Today, electronics require similar courage to approach and offer the same liberation.
Atonal-ism also offered a distraction; suddenly, in order to be a composer one had to study mathematics. An equivalent distraction value comes today out of using electronics, particular live electronics.
Fear and distraction are an important part of electronic music today. Perhaps in the future the computer will be easy to configure and use, and as reliable as a piano is now. If this happens, composers and performers will seek new sources of uncertainty."
(Puckette and Settl, 1993)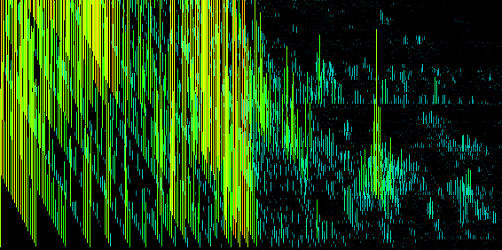 We are living in the next century now. New Challenges came up. To name a few:
New words and scales theories; Geometrical, topological and computational models; Computational analysis and cognitive musicology; Subsumption of Vertical Viewpoint Patterns; the Planet-4D Model: An Original Hypersymmetric Music Space Based on Graph Theory; Melodic Morphing Algorithm in Formalism. Etc, etc,
We have come a long way.
There is no fatigue or weariness in the the creative world. New inventions and equipment has opened so many possibilities.
Roland Kuit in search for electronic/electroacoustic composers with the same bravery, rule-breaking and rule-inventing ways to create new musical fundamentals for the generations to come.
March 23 Roland Kuit will start with a composer's portrait of
Ana-Maria Avram
After graduating from the National Conservatory of Music in Bucharest, she obtained a degree from Paris Sorbonne in 1992. In 1994 she was awarded the Grand Prize in Composition from the Romanian Academy. Since 1988, Ana-Maria Avram has mentained a close collaboration with Iancu Dumitrescu, but she has also continued to forge her own direction in music.
She is considered to be one of the most important Romanian composers of her generation.
She represents with Iancu Dumitrescu the Hyper-Spectral trend in contemporary avant-garde music. Conductor with Dumitrescu of the Hyperion International Ensemble.
Her music is spectral, acousmatic and transformational. Avram composed around 160 works. Music for soloists, chamber music, orchestra, electronic and computer assisted music.
Her musics are published by Edition Modern, Electrecord, Artgallery, Radio France.
Broadcasting link:
http://www.concertzender.nl/programmagi ... tail=84002